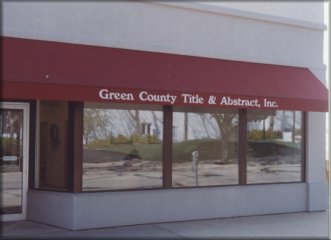 Green County Title & Abstract, Inc. has been serving southern Wisconsin since 1993. We have an experienced and friendly staff who strive to give prompt and efficient service on all your real estate transactions.
Please explore our site to find how we can serve you.
If you are looking for title & abstract services in Lafayette County, visit Lafayette County Abstract & Title.
We are issuing agents for:

---
Home | About Us | Services | Glossary | Order Online | Contact Us
---
Last Modified: by Computer Know How
All product and brand names are trademarks or registered trademarks
of their respective companies.
Copyright © 2001-2002 Green County Title & Abstract, Inc.